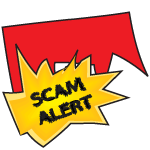 Amusing news recently emerging via a French security researcher who heroically turned the tables on an unsuspecting cyber-scammer, sending malware back having seen through the scam in good time.
In a victory against the growing network of shady characters throughout the internet, this technical support scam got more than it bargained for when approaching Ivan Kwiatkowski.
This well known charade involves confusing innocent people with technical jargon and tricking them into purchasing expensive software in order to fix imaginary problems.
However, Kwiatkowski was wise to it and instead strung the scammer along, before replacing the credit card details he was supposed to send to confirm the deal with a copy of ransomware, which the 'assistant' then opened.
Preying on the naive or uniformed, scams of this nature are renowned for creating web pages or whole sites dedicated to convincing people that their computer has been infected or is under attack. Stung into action they are driven towards 'support' packages which can cost hundreds of pounds, but actually achieve very little.
Fortunately in this case, Kwiatkowski's parents were victims to this form of attack, but had the good sense to query it with their son, who decided to take matters into his own hands and make sure that this scammer's day was unprofitable for once.
Although strictly questionable morally, the action should hopefully ensure that one hacker had at best an unproductive day. Whilst we don't condone infecting anyone's computer or system, it is always encouraging to see some sort of resistance, we would advise however for anyone not as technically qualified as the subject in question here to simply ignore these false flags, and on no account to call the 'Technical Support line'.
If you have any more queries or questions, please don't hesitate to get in touch with us by calling 0191 2960111 or visiting the 'Contact Us' page on the website.