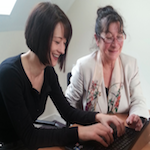 We are delighted to announce that we are expanding our services. In addition to all of our existing offerings we are now able to offer computer training. Anything from basic Microsoft Office to making the best use of Sage Accounts, we can help!
Our training courses are available on a one-to-one basis, or on-site should you wish to train multiple employees.
Our packages are entirely bespoke, able to cater to your specific needs and the needs of your workforce. Sessions are arranged at your convenience, and are tailored to the level of experience and knowledge you possess, broadly defined into three categories.
Now not only can One IT support your business remotely and protect your data, we can also improve your staff knowledge and ability. We cover key programmes and areas, allowing you to progress your business and improve staff confidence and efficiency.
Does this sound interesting? Call us on 0191 296 0111 and we look forward to helping you learn and grow in the areas important to you and your business!